The Statue of Liberty, the Empire State Building, the Brooklyn Bridge are the kind of New York landmarks every person on earth is aware of. But the Big Apple is full of a variety of hidden spots that are remarkably inspiring in diverse fields, from street art to science, going through music and urban landscape.
This is a selection of just a few of these city treasures that myNewYorkeye invites you to discover.
Freedom Tunnel
The Amtrak Tunnel under Riverside Park got its name because graffiti artist Chris "Freedom" Pape used the area to create some of his most outstanding artwork. But the name is also emblematic in reference to the former shantytowns built within the tunnel by homeless populations seeking for shelter. The tunnel was built in the thirties by Robert Moses, to expand park space for Upper West Siders; whereas today it's the haven of graffiti artists, where fortunately the murals remain mostly untouched.
Strawberry Fields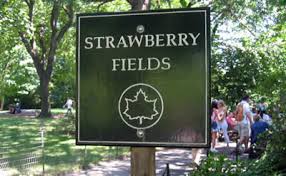 "Strawberry Fields Forever" is the Beatles's song (written by John Lennon), that was inspired by Lennon's memories of playing in the garden of a Salvation Army children's home near his hometown Liverpool, called Strawberry Fields. Central Park decided to tribute the British artist through this memorial that was designed by landscape architect Bruce Kelly, under the supervision of New York Mayor Ed Koch and Lennon's widow Yoko Ono. The entrance to the memorial is at West 72nd Street, across the Dakota Apartments, where John and Yoko lived together (Ono still lives there). The best moment of the year to visit is on Lennon's birthday (October 9th) or on the anniversary of his death (December 8th), when people gather to sing to homage him.
Rat Island
Do not be deceived by the name: this is not an island overrun by rats. But it is an island totally deprived of life. Rat Island is a privately owned island in New York (part of the Pelhalm Islands), located between City Island, Hart Island and High Island. It was once used as a lieu of quarantine at the beginning of the 19th century, it later became a mini colony for writers and artists in the early 20th century. After spending years gazing from his City Island backyard Alex Schibli bought Rat Island in 2011 at auction for $160,000, with the goal of preserving its beauty.
Columbia University Nuclear Reactor
If you happen to be a student at Columbia University, you should ask someone to bring you down into the tunnels of the school, which leads to the nuclear reactor. This large and heavy experimental plasma vessel is located on the second floor of the Engineering Building of the Ivy League School. It was built during the Cold War, however it was never fueled or operated. The related instruments were donated to other institutions and today, the only thing that remains at Columbia is the concrete shell of the reactor.