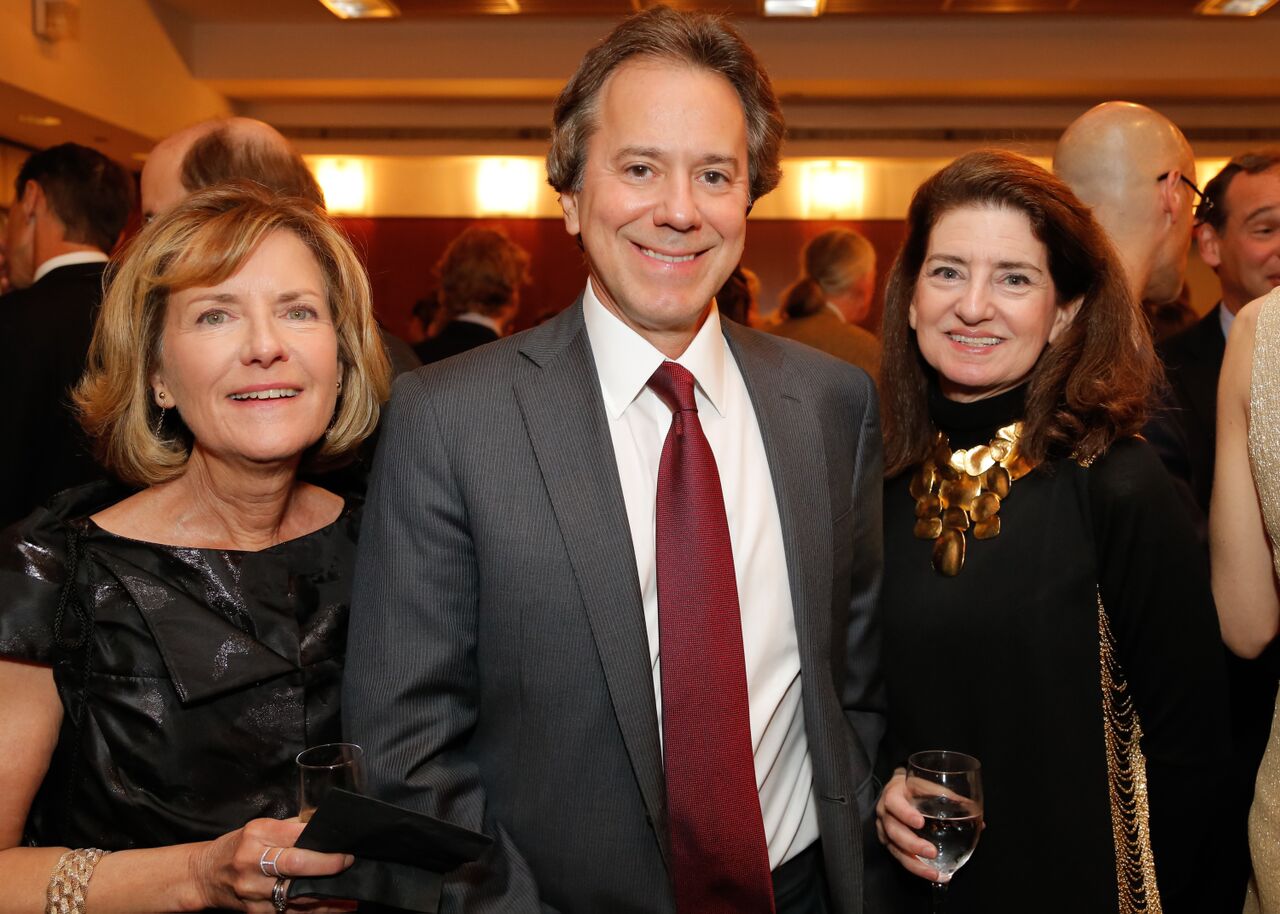 The School of American Ballet's Workshop Performance Benefit 2015 on Tuesday, June 2, 2015 raised more than $890,000 for scholarships and school programs. The evening began with cocktails at 5:30pm in Juilliard's Morse Hall, followed by the performance at 7pm in the Peter Jay Sharp Theater at Lincoln Center, and concluded with a seated dinner at 9pm at the Mandarin Oriental. The evening celebrated the legendary Rudolf Nureyev and commemorated the 20th Anniversary of the Rudolf Nureyev Dance Scholarship.
"We are thrilled to announce that this year's Workshop Performance Benefit was a huge success," said Margie Van Dercook, executive director of The School of American Ballet. "The tremendous generosity of our attendees made our first live auction an exciting and fruitful endeavor."
The performance was attended by nearly 700 guests, and was followed by a seated dinner at the Mandarin Oriental. The dinner was attended by nearly 500 patrons, including the School's board members and alumni, as well as leaders from the New York corporate and social communities.
Notable attendees included: Chairmen Michele Barakett, Linda S. Daines, Hillary Lane Hochberg, Nell Kleinschmidt, and Max R. Shulman; Corporate Chairmen Alexandra and John Galantic; and Young Patron Chairman: Stephanie Anna Linka; Jenny and John Paulson, Julia and David Koch, Coco and Arie Kopelman, Sasha and John Galantic, Laura and Will Zeckendorf, Jean Shafiroff, Emily and John Rafferty, Susan Pilarre and Chip Zien, Suki Schorer, Jonathan Stafford, Ashley Bouder, Peter Martins and Darci Kistler, Jill Kargman, Kay Mazzo, Craig Hall, Troy Schumacher, Lourdes Lopez, George Skoras, and James Lipton.
This year's benefit celebrated the legendary Rudolf Nureyev and commemorated the 20th Anniversary of the Rudolf Nureyev Dance Scholarship. At the peak of his career, Mr. Nureyev spent many hours in SAB's classrooms, polishing his technique alongside SAB's students in Stanley Williams's acclaimed advanced men's class. In 1994, the Rudolf Nureyev Dance Foundation generously presented the School with funding for an annual scholarship to support promising students in honor of Mr. Nureyev's affinity for SAB and Mr. Williams's teaching.
In 1964, Alexandra Danilova, George Balanchine's former classmate at the Imperial Ballet and a leading ballerina of Diaghilev's Ballets Russes and the Ballet Russe de Monte Carlo joined SAB's faculty. In 1965, Madame Danilova established SAB's annual year-end Workshop Performances, giving the School's advanced students an opportunity to participate in professionally staged, publicly performed productions of classic ballet works. Since its inception, the Workshop Performances have seen hundreds of SAB's advanced students make their public debut as they prepare to leave SAB and go on to dance on the world's top stages. The New York Times coined Workshop a "spot-them-before-they-are-stars showcase". Scores of notable SAB alumni have performed at Workshop, including Merrill Ashley, Peter Boal, Maria Kowroski, Lourdes Lopez, Sara Mearns, Benjamin Millepied, Ethan Stiefel, and Wendy Whelan.
The post-performance dinner has evolved through the years, from an intimate gathering hosted by SAB co-founder Lincoln Kirstein at his Gramercy Park townhouse into a festive fundraiser held in the SAB studios. The continued success of the Workshop Performance Benefit led SAB to the use of another wonderful New York venue.The post-performance dinner took place in the magnificent ballroom at the Mandarin Oriental with the City's iconic skyline as a backdrop.
The 2015 Workshop Performances program included 19th & 20th Century Masters (Petipa, Bournonville, Balanchine & Robbins); Harlequinade ("Ballabile des Enfants"), Choreography by George Balanchine, Music by Riccardo Drigo; William Tell (pas de deux), Choreography by August Bournonville, Music by Gioachino Rossini; The Sleeping Beauty (pas de deux), Choreography by Peter Martins (after Marius Petipa),Music by Peter Ilyitch Tschaikovsky; Valse-Fantaisie, Choreography by George Balanchine, Music by Mikhail Glinka; Stars and Stripes (3rd Regiment "Thunder and Gladiator"), Choreography by George Balanchine, Music by John Philip Sousa, arranged by Hershy Kay; and Fanfare,Choreography by Jerome Robbins, Music by Benjamin Britten.